==
Tyler
Screaming Gophers
Team Mediterranean
Heroes
Team Chris Is Really Really Really Really Hot

Gender
Male
Hair color
Brown
Eye color
Brown
Place
TDI: 5th
TDWT: 16th
TDR: 27th
Friends
Geoff, Gwen, Heather, Alejandro, Owen, Cody, Harold, Trent, Izzy, Bridgette
Enemies
Geoff (became friends), Katie
Fear
Having enemies, Being voted off early
Talent
Making a lot of close friends
==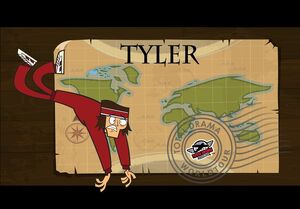 Considering Tyler did not participate in Total Drama Action, he started in Total Drama Island, he was played by Marioluigi3128. He was played by the same person in Total Drama World Tour and Total Drama Reunion. He is currently played by Explosion772 in Season 5, the second addition of Total Drama World Tour.

Tyler, in Total Drama Island was on The Screaming Gophers. For some reason, at the beginning and mi
ddle, he was in the bottom two very frequently! More than anyone in my entire Total Drama Camps EVER. Yet he stayed strong and lasted up until the Final Five where his elimination was a surprise for everyone! He Returned in Total Drama World Tour with hopes of taking it all!

Tyler started out on Team Mediterranean and started out doing a good job! Succesfully completing most challenges! He proved to be one of the strongest players on his team! However, he wasn't the most active player, with no confessionals on my channel (from TDWT) to date! When the time came for the trust number challenge. Tyler did not get on in time for the deadline! Making his team lose! Because of him making the loss. Tyler was eliminated....
Tyler started out Total Drama Reunion on the Villains
team because he was put there by default. He did not claim a spot on a team and there was only one spot left, on the Villains. However, he showed his dislike for being on the Villains, lucky for him, Bridgette wanted to switch from being a Hero to a Villain. So, Tyler switched over to the
Heroes
team, where he felt he rightfully belonged. However, that may have been "the suicide" move for him. As, becuase of swapping, his team voted him out. If Tyler had stayed on the Villains, Tyler would have stayed in.