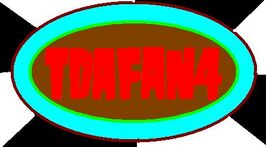 Welcome to TDAFAN4 WIKIA
Welcome to my Wikia! Take your time! Please fill out the polls below! Enjoy the Wikia. Me and the Competitors have put a lot of work into it! HAVE FUN XD
Total Drama World Tour Present Competitor
What Team Are You Cheering for?
This wiki is an open site for anyone who is any apart of my Total Drama Camps! Feel free to join...edit...ask questions?...etc!
Check out my Total Drama Hall of Fame
Characters
I've made some character's pages! But feel free to make your characters pages...edit them...write about what place you got...enemies...etc
Help!
I could use all of your help editing specific pages! Some pages that really need help are...
Killer Bass
Please find your character page and add your own stuff! (I made a page for all characters)