I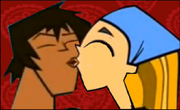 t first shows
Harold
in the confessional saying how its his second day back and he already won an immunity.
Trent
is in confessional saying sorry about getting rid of
Izzy
. Next scene it shows
Chris
telling them the next challenge is the Adventure Genre and might cause....death. Next scene it show contestants and
Chris
tells them they have to find the correct order on the door. Many try but
Gwen
won the immunity. It shows
Gwen
shownig off her immunity when
Harold
jumps and grabs it out of her hands giving him immunity. Next it shows the Anti-Darcy Alliance at camp grounds deciding who should go home.
Harold
thinks they should get rid of
Justin
but
Lindsay
doesn't agree with getting rid of here boyfriend yet. After everyone decides to get rid of
Justin
,
DJ
goes to the bathroom while
Trent
comes and tells them to vote out
DJ
because the heroes are then
Trent
leaves. Next it shows
Harold
in confessional saying he is voting out justin for saying there no longer friends. Next we're at the ceremony and the ADA all votes out
Justin
except for
Lindsay
which put a target on her back. The score of votes was 5
DJ
, 4
Justin
and 1
Owen
. The final vote went to
Trent
what ever his vote was he goes home. When he was about to vote
DJ
,
Harold
gave him his immunity which sent
Justin
packing. When
Justin
was about to leave
Lindsay
said goodbye which lead to there FIRST KISS awwwwwwww:)
thumb|286px|right|Justins Goodbye Tribute