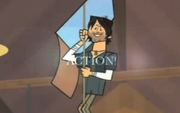 This episode starts with
Izzy
and
Geoff
in the confessional talking about and mocking
Cody
's elimination. Then
Sadie
states that everyone wronly assumes her to be an underdog because of her character. The genre is revealed to be...The Gangster Caper Flick! There was a new type of challenge called OPTIONAL challenges. Its where you can chose to compete for Reward or Team Immunity! The Reward would be a hidden immunity.
Izzy
was the ONLY one who chose to compete for single reward immunity. So she automatically recieved a hidden immunity. The challenge for the teams was to find their Kindnapped team captains. They had their choice of EVERY set on the film lot but they could only go to one. Several people went to the horror movie set,
Owen
made it their first. He said he knew he had to do something to help his team so he hid behind a rock and scared everyone away from the set so he would be the only one looking there. However, at the Alien set,
Geoff
had just found
Trent
and secured victory for the
Heroes
! The
Villains
had to send someone home that night.
Justin
said in the Confessional that he hoped his team appreciated him appreciated him at least TRYING to win immunity for all of them, clearly they did not,
Justin
was in the bottom two with
Ezekiel
BUT
Ezekiel
was sent home. Vowing for revenge later.