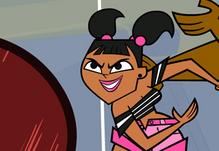 Katie did not participate in Total Drama Action, so her character Joined in Total Drama Island. She was played by Footballplayer598....the same for Total Drama World Tour.
Total Drama Action
Edit
In the first season she was eliminated near the begininng. She didn't make it to far but made a few friends and enemies along the way. She didn't win a single challenge and just walked by on the elimination ceremonys.
Total Drama Island
Edit
Katie was played by "Footballplayer598". Katie was the 11th eliminated then had returned with Ezikiel. Katie had made it all the way to the final 4 then was voted off. She actually had no friends because she was rarely one except to do the challenges
Total Drama World Tour
Edit
In TDWT Katie was put on team Medeterranean with her teammates Duncan, Noah, Heather, Eva, Geoff, Ezikiel, and Tyler. Katie was played by "Footballplay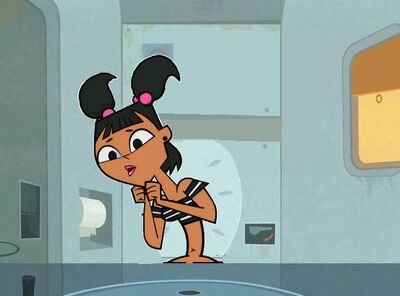 er598". She was the 3rd voted off because of her teammates. She had made no alliences and friends on TDWT!! :
Total Drama Reunion
Edit
Katie was played by TORIMARIE88 for the first time!!Katie was in TDR for a little mount of time then got the boot. She made good friends with Darcy but became bad enemies with Harold
Total Drama World Tour 2
Edit
Katie made it to tdwt2. Shee was placed on team amazon or the winning team so far her team has lost once. She might even win this time!!! She was still in the game when the camp was cancelled.