Ezekiel Joined in season Two with some other characters and was played by Josephandgeoff. However, he quit and was replaced by G1awsome. G1awsome also played Ezekiel in Total Drama World Tour.
Was not in this season because nobody wanted his lame character!! LOL
Joseph and Geoff, a long time fan of the show, got to join when the role of Ezekiel became open! However, he did not do any challenges or any votes! One or two at most! When TDAfan4 sent out a letter to him and some other people that they need to get on more often! Ezekiel was part of the Shocking Triple-quit-elimination! Where Him, Trent, and Noah quit! This triple-quit was too much for TDAfan4 to do nothing about! So he had g1awsome...another fan of the camp, take Ezekiel's place! However, he survived one challenge, and was eliminated!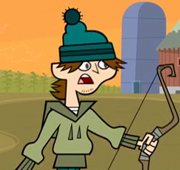 Ezekiel didn't do much this season....he was eliminated fourth in a epic double team elimination alongside with Owen.
Ezekiel was doing ok until the latest challenge when he and Justin lost it for the Villains. It looked as though Ezekiel would be safe, but BLAM, HE WAS ELIMINATED!
He says he will be back...or will he?