Alejandro was one of the two people to have joined in Season Three. That being Total Drama World Tour. He was played by Duncan9876543210. He also returned in Total Drama Reunion on the Heroes.
Total Drama World Tour
Edit
Alejandro was one of the two people to join in "Total Drama World Tour". He is played by Duncan9876543210. Near the beginning when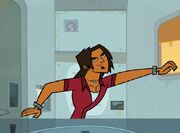 Team Amazon was on their Losing sreak....Alejandro was consistently in the bottom two. Until the fourth elimination when (in the words of TDAfan4) he was unfairly sent home. This unfair elimination was the reason TDAfan4 chose to bring back Alejandro into the competition. Alejandro was placed back in Team Amazon with LeShawna and Gwen. Alejandro made it to the merge! Going strong but was eliminated right after the merge due to the power of Team Madagascar's Super alliance!
Total Drama Reunion
Edit
Alejandro participated in his SECOND season of TDAfan4's camps. He placed himself on the heroes. He placed 4th. His team is not the best in challenges. However, considering some...events....the teams have stayed even. In Public Frenemies Alejandro and a few other people, chose to look for his Team Captain in the horror set, only to be scared away by fellow team mate, Owen. Alejandro made it to episode 7, Total Drama The Musical, where all the contestants had to sing a song. Alejandro sang his to the tune of "Take me out to the ball game" To see Alejandro singing his song click Here. Alejandro and Harold had tied in votes, 2 and 2. Harold won the tiebreaker, sending Alejandro home in the Lame-o-sine.
Total Dama World Tour II
Edit
Alejandro was 1 of the 18 people to make it onto TDWT II.
He was put on Team Victory. Not much else can be said, due to the cancellation of the season.